http://www.guitargui...ck=px-G15ES2401
Only a bloomin' bassmaster Funk' !!!!
For those of you that don't know I've had one of these for the best part of twenty years, kept it through owning over 60 other basses including many four figure warwicks, statii, stingrays etc, and still use it regularly. Folk always want to borrow it for the sound
It's one of the best sounding and playing basses Ive ever ever come across at any price, but has always been a total mystery. As to who made it, where it came from, why so few etc.
I bought mine long before the Internet and mine doesnt have the 'T' on the headstock like all the others I've come across.. (all three of them, including this one) Also mine has much smoother contouring than this from the looks of the picture. I'd remembered a tiny mention in a guitar magazine years ago that tanglewood would be releasing these 'high end' models, but they never really materialised, so I'd always figured that's probably what it was. A prototype perhaps. Once the web came long I looked high and low for them. I've been contacted twice by other owners doing the same. They both had just the T on the headstock, and no writing This one has both the 'bassmaster funk' logo and the big T.
Oddities it seems!
Mine...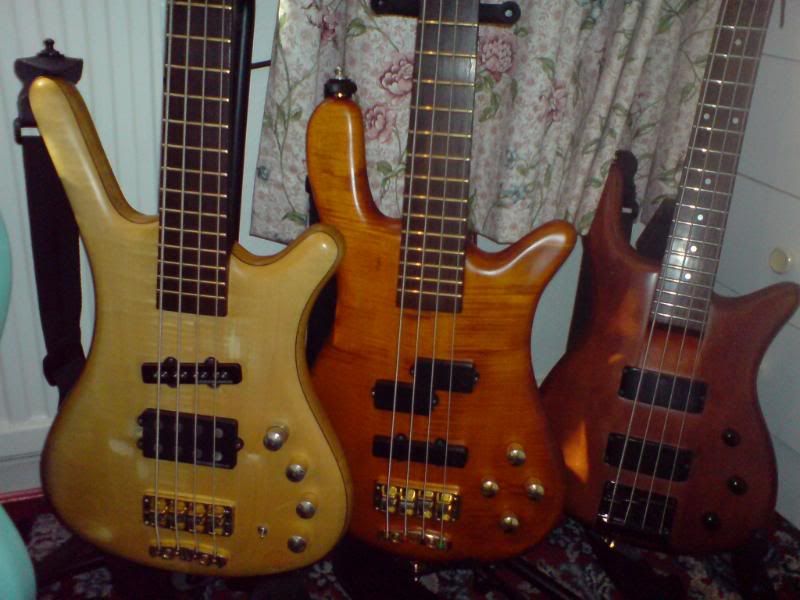 As you can see mine has been pimped and battered but I'll never ever part with it. Amazing set up and nice ageing along with a mid p/j width neck and the most piano like neck pickup you'll ever hear and the most burbly, burpy bridge.
The both on sound is powerful and modern and although they look the same as Epi tbird humbuckers, trust me. They sound nothing like.
One of the greatest basses ever ime, IMHO etc
If anyone has £300 kicking around if it's as good as mine you'd do well to snap it up!!
Edited by gafbass02, 08 May 2012 - 05:14 PM.