Ok, so I know it's a tad early, but I thought it start it up and update it as we go.
This all started as a crazy idea, and thanks to everyone's ideas and inputs, has started to come to life.
First of all big thank you's to Paul S and 3below for pickups (which will be installed on Saturday morning), Chrismanbass for supplying a hard case for the bass to travel in (which will be collected this weekend), Paulgm1 for escorting said hardcase from London to Portsmouth, to Ped and Kiwi for allowing us a polo to go with the bass, bluejay for keeping the world informed and updated via twitter and to all of those taking part and wishing to take part.
Now, the bass in question is somewhat special to me. It was my first bass. I remember it being plugged in and dumped on my lap in PJ's guitar shop, roughly 9/10 years ago for the first time. All I could manage with it, was a blank expression and a shrug. Throughout school though I taught myself Red Hot Chili Peppers lines, some Metallica and then on to weather report and Jaco.
Seeing RHCP (well, Flea) as m biggest inspiration, I loved the look of his "punk" bass, this getting heavy handed with the stickers. It remained "bastardised" (as my mate Jordan once delicately described it) for years, unused whilst other basses came and went. Eventually the electrics died (around about May last year) and were removed.
Up until this idea came around, it just sat there unloved.
However, at the weekend I went down to my old flat and picked up the bass in question. I knew it needed work, so I thought I'd start the thread with that. As I've previously mentioned, it still had all the stickers on it when I collected it: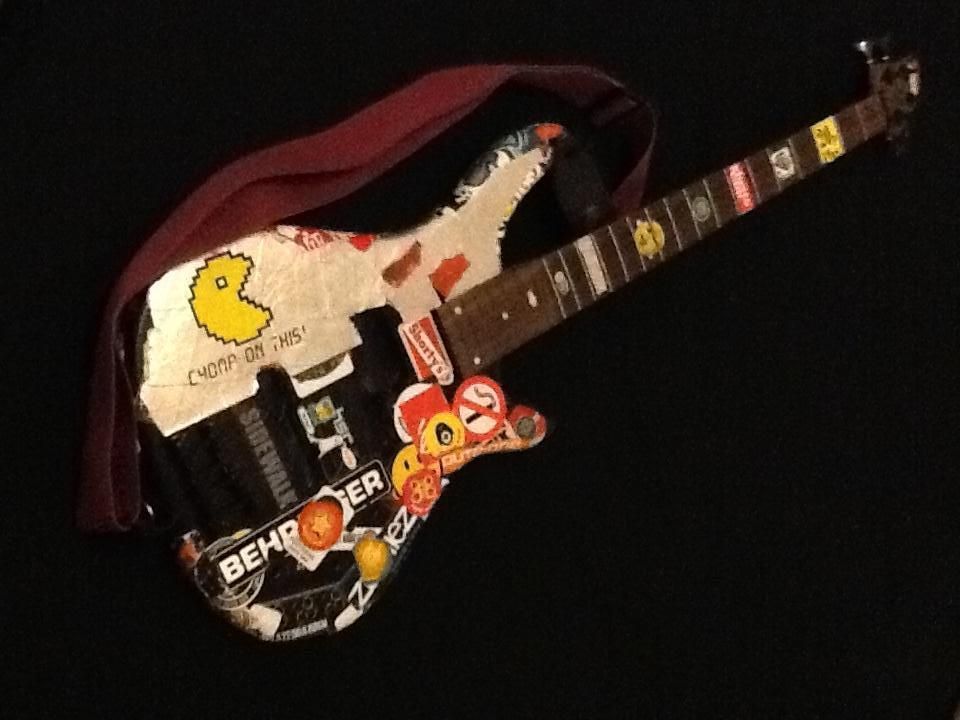 On Monday, I got snowed off at work, and spent m afternoon removing the stickers. It took a few hours, but managed to get them off in the end. It's been a long 9 years since I last saw the bass' actual finish.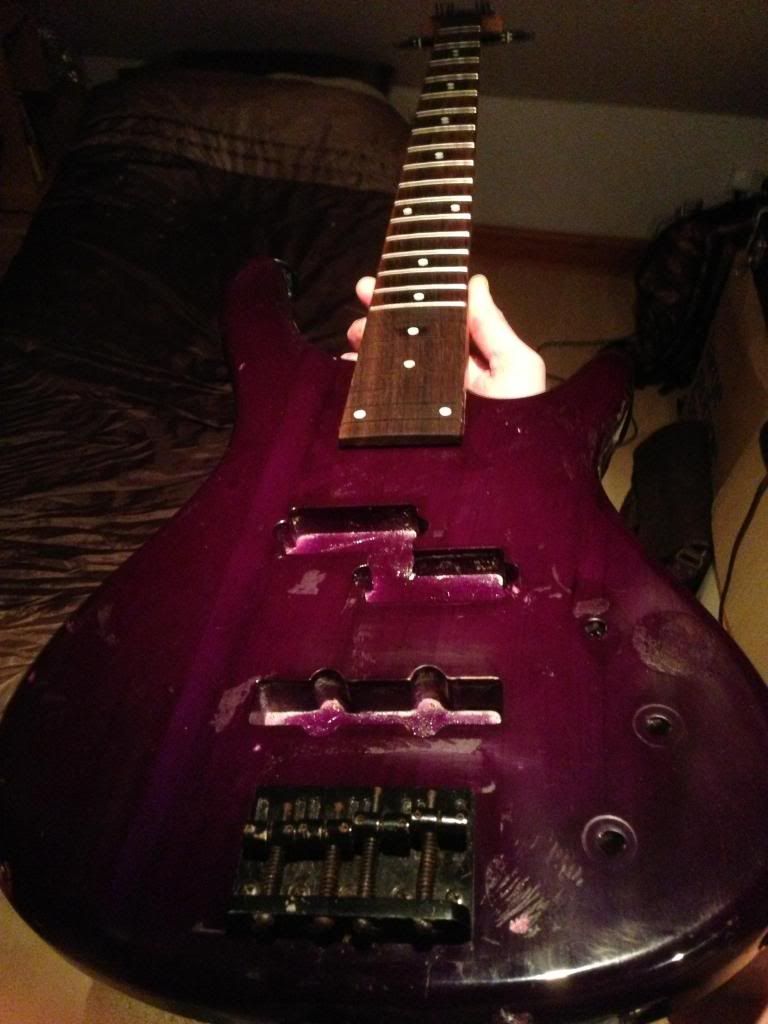 Tomorrow I'll be getting some lighter fluid to remove the sticker glue and to give it a good clean up. The pickups will be added at the weekend, and I'll keep you posted with pics.
There's a strong chance I'll have a gig Saturday night. If that's the case, this'll be used, this starting the relay.